How to cite in Chicago style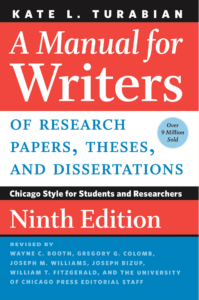 Chicago style (sometimes called Turabian style) is one of the most popular citation styles used by students and academics. The main resource for students using Chicago style is A Manual for Writers of Research Papers, Theses, and Dissertations (9th edition).
Chicago presents two options for source citation: notes and bibliography style, widely used in humanities subjects; and author-date style, mainly used in the sciences. Scribbr's free citation generator can automatically create citations in both of these styles for a wide variety of sources.
Below, the rules of notes and bibliography style are explained in more detail.
Chicago bibliography entries
The basics
The bibliography appears at the end of your paper, listing full information on all the sources you cited. A Chicago bibliography entry typically mentions the author, title, publisher or publication in which the source is contained, publication date, and URL or DOI if available.
Depending on the source type, you may omit some of this information when it's unavailable or irrelevant, and include other details when they're needed to identify the source.
Reference examples
The exact format of a bibliography entry depends on the source type you're citing. The rules indicate what details to include for each source and how to format the information (e.g., italics, capitalization). Explore the tabs below to see examples for the main source types.
Format

Author last name

,

First name

. "

Page Title

."

Website Name

.

Month Day

,

Year

.

URL

.
Example
McCombes, Shona. "Types of Research Designs Compared | Guide & Examples." Scribbr. Last modified October 10, 2022. https://www.scribbr.com/methodology/types-of-research/.
Missing information
Sometimes, not all of the suggested information will be available for the source you want to cite. The table below shows what to do when certain commonly included details are not available for your source.
Missing element
What to do
Example
No author
List the organization that published the source in the author position. If the same name would normally appear later in the entry, omit it there.

Scribbr

. "An Introduction to Research Methods." Accessed June 11, 2020. https://www.scribbr.com/category/methodology/.
No date
List an access date instead for online sources with no publication or revision date.

Or write "n.d." (no date) in place of the date if the source is not online.

Scribbr. "How to Write a Research Paper."

Accessed October 25, 2022

. https://www.scribbr.com/category/research-paper/.

Le Guin, Ursula K. The Dispossessed. London: Victor Gollancz, n.d.

No title
Include a description in place of the title, in plain text.
Doe, John.

Poetic manuscript

. 1355.
Chicago Citation Generator
Generate accurate Chicago style citations in seconds
Chicago footnotes are used to cite sources in the text. Each footnote is indicated at the relevant point in the text by a superscript number,1 while the note itself appears at the bottom of the page. A footnote should be added each time you quote or paraphrase a source.
All of the sources you cite in footnotes should be included in your bibliography.
Chicago provides guidance for full notes (giving complete information) and short notes (giving only the author's last name, shortened title, and page number). Use a full note the first time you cite a source and short notes for any subsequent citations of that source.
Full notes generally give the same information as bibliography entries, but presented slightly differently. You can see examples of full and short notes for the most common source types in the tabs below.
| | |
| --- | --- |
| Full note | 1. Shona McCombes, "Types of Research Designs Compared | Guide & Examples," Scribbr, last modified October 10, 2022, https://www.scribbr.com/methodology/types-of-research/. |
| Short note | 2. McCombes, "Types of Research Designs." |
As with bibliography entries, Chicago provides advice on what to do when information you would usually include in your footnotes is missing—summarized in the table below.
Missing element
What to do
Example
No author
In a full note, just leave the author name out, listing the title first.

In a short note, list the name of the organization responsible for the source in the first position.

1.

"An Introduction to Research Methods,"

Scribbr, accessed June 11, 2020, https://www.scribbr.com/category/methodology/.

2. Scribbr, "Introduction to Research Methods."

No date
List an access date instead for online sources with no publication or revision date.

Or write "n.d." (no date) in place of the date if the source is not online.

1. "How to Write a Research Paper,"

accessed October 25, 2022

, https://www.scribbr.com/category/research-paper/.

2. Ursula K. Le Guin, The Dispossessed (London: Victor Gollancz, n.d.), 105.

No page number
Use another locator such as a paragraph or chapter number if available.

With websites, generally just leave out this part of the citation.

1. Le Guin, The Dispossessed,

ch. 5

.

 

2. McCombes, "Types of Research Designs."
Chicago Citation Generator
Generate accurate Chicago style citations in seconds
Scribbr offers a wide variety of tools and resources to help with citation and other aspects of academic writing: